Waimea Canyon
tips you can trust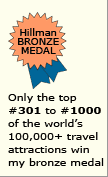 Why
Waimea Canyon
is special
Waimea Canyon on the island of Kauai in Hawaii is one of the most stunning natural wonders in the Pacific. Visitors enjoy a variety of scenic overlooks and hiking trails.
---
Waimea Canyon
tips & insights
---
Best time for viewing
It varies from spot. Generally, the best viewing time is in the morning because it is more likely to be cloudy in the afternoon (though you risk encountering morning mountain mists).
Sun direction affects viewing, too. For example, the ideal time for visiting the popular viewpoint named Waimea Canyon Outlook is the morning. In the afternoon, you will be facing the sun. However, the opposite is true for some of the viewpoints higher up the road.
---
The weather factor
Sightseeing quality is dependent on the weather. On sunny days, the canyon walls and vegetation are colorfully vibrant. Not so when it rains or clouds hang low. Check the local weather forecast before starting on your Waimea Canyon trip.
---
Dimensions
Waimea Canyon is about 16 kilometers (10 miles) long and 1100 meters (3600 feet) deep.
---
Learn more Waimea Canyon tips ...


America Wonders - Top 10 rankings
---

---