Komodo Island
Travel tips you can trust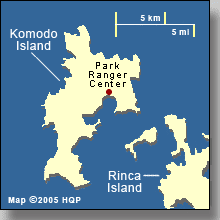 Why
Komodo Island
is special
This modest sized island is home to about half the earth's remaining 4,000 Komodo dragons, the world's largest lizards. They measure up to 3 meters (10 feet) in length and can weigh up to 135 kilograms (300 pounds).
Komodo Dragons
are deadly - don't
get in their way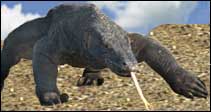 Some facts:

Prey
Komodo dragons hunt live animals including wild boar, deer and even large water buffalo.

Speed
A full-grown adult can run and swim faster than you can, though there is no confirmed account of a Komodo dragon killing a human being.

Bacterial weapon
If their powerful serrated-tooth jaws do not kill the prey, the deadly bacteria in their mouths eventually will.

Cannibalistic
The Komodo dragons also eat each other, given the need and occasions.
Learn More

for Komodo Island - Page 2
Top 5 islands
for travelers near Bali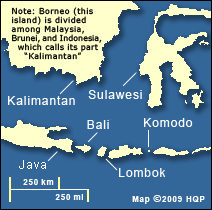 Read my Bali pages


Rice terraces


Dance & music


Arts & craft


Temples


Ubud


Sports


Luxury resorts


Kuta


Food


Beaches

Bali tip sheet
Bali attraction map
Best 5 nearby islands

World's Top 100 Wonders
World's Top 1000 Wonders
Site map
My credentials
About my website and criteria
Reader testimonials