Honduras Bay Islands
Caribbean tips you can trust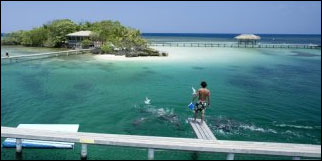 Why the
Hondura Bay Islands
are special
The Bay Islands are praised around the globe for their diving opportunities. They have outstanding coral reefs and walls - and the sites are seldom crowded.
The islands

There are eight Bay Islands
plus nearly six dozen cays
The three major ones - in order of size and popularity - are:

Roatan
Most divers and other visitors stay on Roatan. It has the best beachside resorts and a steep, picturesque mountainous interior.

Guanaja
It's less developed than Roatan. Guanaja has shipwrecks for divers to explore as well as some good resorts.

Utila
This is the most laid back and least expensive of the three islands. Like Roatan and Guanaja, Utila has great beaches and uncrowded coral reefs, but its interior terrain is flatter and less camera-friendly.
See the map below for their locations.
Learn More

for more Honduras Bay Islands tips
Location map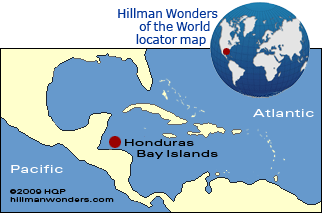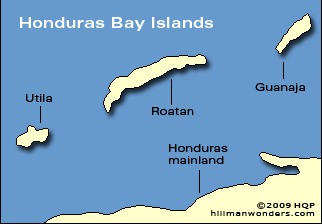 Learn my other
Caribbean Island tips
Best time to go
Best islands for sports
Best islands for resorts
Best islands for family resorts
Best islands in 8 other categories
How to pronounce island names
Caribbean Island locator maps
Caribbean Islands - home page
Best Caribbean cruises
Famous Caribbean food

World's Top 100 Wonders
World's Top 1000 Wonders
Site map
My credentials
About my website and criteria
Reader testimonials
Honduras picture is copyrighted by the Honduras Tourism Board and is used with permission.

Safari guides
Special topics
World wonder rankings
Other tips & advice
More
Copyright 2013 HQP - Hillman Quality Publications / hillmanwonders.com