St Eustatius
Caribbean tips you can trust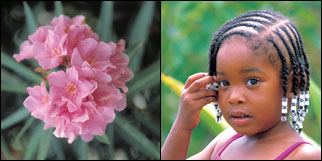 Why
St Eustatius
is special
St Eustatius (you-stay'-shush) is a tiny, laid-back island that pleases divers and hikers.
Tourism

Infrastructure
Don't expect much in dining, nightlife, and accommodations and you won't be disappointed. And the capital city Oranjestad isn't much to write home about either. Diving and hiking are the stars.

Top 2 activites

Diving
There is much to explore underwater, including many sunken shipwrecks sitting in clear water. And you can visit the ruins of a seawall that sank two centuries ago.

Hiking
Statia has many trails, some leading around, up, and into the dormant volcano nicknamed Quill (see next item).

Quill volcano cone
This 600-meter (2,000-foot) high mount is the island's geographical focus. Hiking into the crater is thrilling. It teems with tropical rainforest growth.

Fort Orange
This fortress was built in the early 1600s and restored in the late 1900s. It overlooks Oranjestad Bay.
Learn More

for more St Eustatius tips
Location map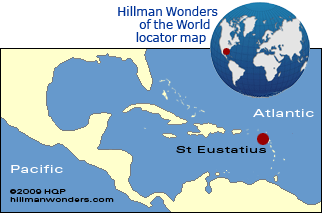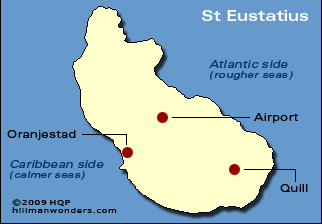 Learn my other
Caribbean Island tips
Best time to go
Best islands for sports
Best islands for resorts
Best islands for family resorts
Best islands in 8 other categories
How to pronounce island names
Caribbean Island locator maps
Caribbean Islands - home page
Best Caribbean cruises
Famous Caribbean food

World's Top 100 Wonders
World's Top 1000 Wonders
Site map
My credentials
About my website and criteria
Reader testimonials
The two Eustatius pictures in my montage are by photographer Cees Timmers and are used with permission.

Safari guides
Special topics
World wonder rankings
Other tips & advice
More
Copyright 2013 HQP - Hillman Quality Publications / hillmanwonders.com