St Vincent
and The Grenadines
Caribbean tips you can trust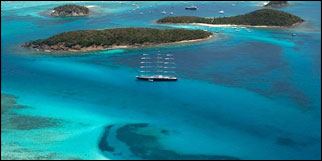 Why St Vincent
and The Grenadines
are special
The Grenadines (as the country is often called) is the Caribbean's finest and most famous sailing and yachting area. It has many secluded coves with beaches and coral reefs beckoning you to lay anchor for sunbathing, swimming, diving, snorkeling, and over-nighting.

Must visits
The Grenadines chain has 32 islands and cays. The most significant are:

St Vincent
This is the largest island and has less appeal than the smaller ones. The capital city Kingstown resides. The island has some resorts, but most visitors use St Vincent as a gateway to the smaller, slower-paced islands.

Young
Situated just off St Vincent Island. Has a well-regarded private resort.

Mustique
Ritzy. This is where the rich, famous, and powerful hole up.

Canouan
The luxury Raffles Resort is here.

Bequia
Great beaches. Has a wide choice of accommodations.

Tobago Cays
Popular with vacationers seeking modest-priced accommodations and a variety of good-vibe places to eat and drink.
Union Island and Palm Island are popular, but they don't make my must-visit list. Their traditional Grenadines character is compromised because of their nearness to Grenada. Daytrip visitors from Grenada overly influence the look and feel.
Learn More

for more St Vincent
and the Grenadines tips
Location map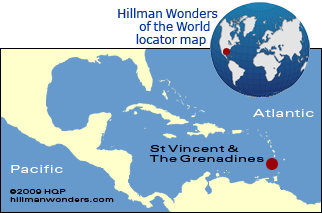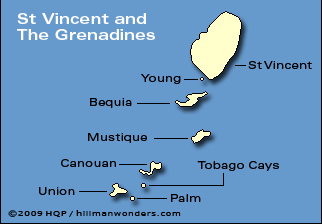 Learn my other
Caribbean Island tips
Top 10 Caribbean Islands

Jamaica


St Barts


St Lucia


British Virgin Islands


Barbados


Bahamas


St Martin / St Maarten


Aruba


Cayman Islands


Dominican Republic
Best time to go
Best islands for sports
Best islands for resorts
Best islands for family resorts
Best islands in 8 other categories
How to pronounce island names
Caribbean Island locator maps
Caribbean Islands - home page
Best Caribbean cruises
Famous Caribbean food
Aerial photo is copyrighted by the St Vincent and The Grenadines Tourism Authority and is used with permission.
Discover St Vincent & The Grenadines

World's Top 100 Wonders
World's Top 1000 Wonders
Site map
My credentials
About my website and criteria
Reader testimonials