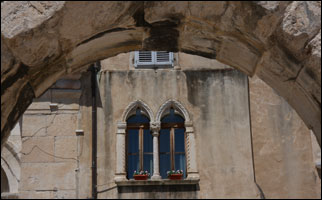 More
Diocletian Palace
tips and insights

Guide
This is the type of tourist site that is better explored with a human guide than on your own with a guidebook.

Site evolution

After the Diocletian Palace was abandoned, it sat virtually empty for several centuries.

In the 7th century, thousands of local residents moved in to avoid the surging Barbarians. It became a city within a city, with its own dwellings and marketplaces.

Over the next millennium, the occupants demolished and renovated many of the palace structures to suit their needs. This included creating houses and work spaces.

Today, about several thousand people live within the 1,700-year-old palace walls. You will find a busy community comprising apartments, shops, galleries, bars, eateries, professional offices, and more.

Split's other attractions
Frankly, they are few if any that would interest the average traveler in the city of Split. It's essentially a one-attraction town.

Popular side trip
Just 27 kilometers (17 miles) away is the picturesque Trogir Old Town, one of Croatia's tourism jewels, and a Hillman Wonders medal winner. Many Split visitors make a day or overnight trip to this islet. You can reach it by road or boat.
Learn More

for first Diocletian Palace page
Know these Croatia tips and insights
Dubronik
Old Town
Hotel tips
Photo gallery
Other Croatia wonders
Diocletian Palace
Hvar Old Town
Plitvice Lakes
Trogir
More pages
Croatia Wonders - Top 5 rankings
Basic Croatia phrases
Photo by Mark Heard - CC BY 2.0
Croatian National Tourist Board

World's Top 100 Wonders
World's Top 1000 Wonders
Site map
My credentials
About my website and criteria
Reader testimonials