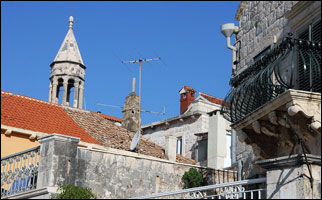 More Hvar
tips and insights

When to come
Hvar Town has become a popular vacation for jet setters as well as for us ordinary folks. It is often jam-packed (and expensive) in July and August. May is the best all-around month (great weather and tolerable crowds).

Beaches
Although tourism brochures praise the beaches, in reality they are not exceptional enough or are too crowded to attract visitors on their own merits. Watersporting is even more hyped.

Sunny days
Hvar has a blessed climate. It offers vacationers more sunny days than they will find in virtually all other European beach holiday areas.

Interior
Some hillsides and mountain slopes are picturesquely blanketed with vineyards, olive groves, and aromatic lavender fields.

Architecture
Many Hvar Town buildings are designed in the Venetian style because the island was controlled by Venice from the 13th to 18th centuries.

Dimensions
Hvar Island measures about 68 kilometers (42 miles) in length and roughly 11 kilometers (7 miles) wide. The highest point is 628 meters (2,050 feet) above sea level.

Exploring the island
You can rent a car or scooter. And there are decent inter-island ferry and bus services.

Getting there
Ferry service from the mainland Croatian city of Split is the most popular departure option. Ferries from Dubrovnik take much longer.

How to pronounce
Hvar = vahr (The "H" is silent. And the "v" has a hint of the "f" sound in the word "far".)
Learn More

for first Hvar Old Town page
Know these Croatia tips and insights
Dubronik
Old Town
Hotel tips
Photo gallery
Other Croatia wonders
Diocletian Palace
Hvar Old Town
Plitvice Lakes
Trogir
More pages
Croatia Wonders - Top 5 rankings
Basic Croatia phrases
Croatian National Tourist Board

World's Top 100 Wonders
World's Top 1000 Wonders
Site map
My credentials
About my website and criteria
Reader testimonials