Famous Latium
and Rome dishes
page 3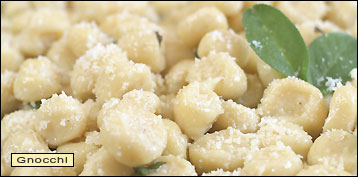 List continued from previous page two
More renowned
Latium and Rome specialties

Suppli al Telefono
Rice croquettes stuffed with mozzarella cheese (and, perhaps, other ingredients), then deep fried. When the balls are opened and pulled apart, the cheese stretches out like telephone wires, hence the specialty's graphic name.

Stufatino alla Romano
A well-seasoned veal stew.

Zuppa Inglese
Literally, English Soup, but really a rich, rum- soaked, custard-layered sponge cake covered with rum-spiked whipped cream and candied fruit. It is definitely Italian in origin.
Learn More

for first Latium/Rome cuisine page
Also learn about these
Italian culinary regions
and their famous dishes
Italian culinary regions
Campania and its Naples
Emilia Romagna and its Bologna
Latium and its Rome
Liguria and its Genoa
Lombard and its Milan
Piedmont and its Torino
Sardinia
Sicily
Tuscany and its Florence
Veneto and its Venice
Plus some other regions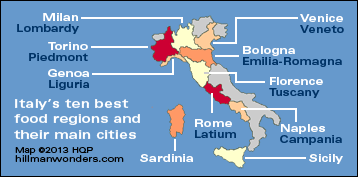 Also read
Italian cuisine - Home page
Top 10 Italy travel wonders
Photo by Paoletta S. - CC BY 2.0
Italian Government Tourist Board

Rankings
Peasant recipes
World wonders
Also read
Site map
About me and my credentials
About my website
Reader testimonials
Email me your opinion