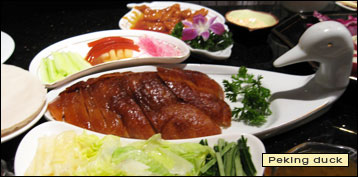 More
Mandarin cuisine
tips and insights

Narrow definition
The term Mandarin cuisine can refer to the elaborate and delicate Mandarin specialties that were originally cooked for the elite members of the now-defunct Imperial Court.

Broad definition
Nowadays the more common meaning of Mandarin cuisine encompasses the above definition as well as the cooking styles of nearby areas. My map shows that region.

Occidental term
Mandarin cuisine is an Occidental term. Though not commonly used in China, "Mandarin cuisine" is widely used abroad to define a regional culinary area that includes Beijing.

Chinese banquets
Mandarin cuisine (in its Imperial Court sense) is the cuisine of the traditional Chinese banquet.

Reputation
Mandarin cuisine has the reputation for being China's most refined cuisine.

for first Mandarin Cuisine page
Learn my Chinese tips
and insights on these pages
Click blue links
China's top 4 regional cuisines
Cantonese
Mandarin
Shanghai
Sichuan
Other main regional cuisines
Fukien
Hunan
Jiangsu
Shandong
Tibetan
Yunnan
Also read
10 most famous Chinese dishes
Chinese regional cuisine quiz
Chinese cuisine - Insights
Top 10 travel wonders of China
Photo by Tenaciousme - CC BY 2.0

Rankings
Peasant recipes
World wonders
Also read
Site map
About me and my credentials
About my website
Reader testimonials
Email me your opinion