Petronas
Twin Towers
Travel tips you can trust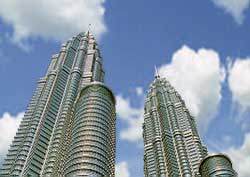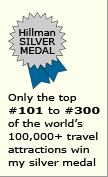 Why the
Petronas Twin Towers
are special
The Petronas Twin Towers are 452 meters (1483 feet) high. They were, until 2004, the world's tallest buildings. Though no longer the title holder, they still have their visually dramatic design. And, unlike most other high skyscrapers, there are no other super skyscrapers in their city blocking or competing for the visitor's eye. They can easily be appreciated from all compass points.
Skybridge

The connector
The sight of the Petronas Twin Towers in Kuala Lumpur, Malaysia is made even more spectacular by a 58-meter (192-foot) twin-tier skybridge that connects the structures about halfway up, on the 41st and 42nd floors.
How the Taipei 101
building affected
the status of the
Petronas Twin Towers

2004
The Taipei 101 building in Taiwan took away the tallest title from the Petronas Twin Towers in 2004. The Taipei structure has 101 stories and stands 507 meters (1667 feet) high, which is about 12% higher than the Petronas Twin Towers.
Burg Khalifa

The new tallest
In 2010, this skyscraper in Dubai became the world's tallest building. It soars 822 meters (2,617 feet) high and boasts 160 stories. Those statistics along with its spectacular design win it a spot in my Top 100 Wonder list.
Location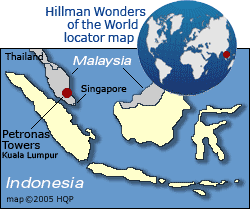 World's Top 100 Wonders
World's Top 1000 Wonders
Site map
My credentials
About my website and criteria
Reader testimonials