Best 5
New York attractions
for children
must-see rankings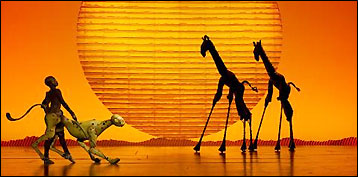 Top 10
New York attractions
for children

Lion King (see photo)
The acclaimed Walt Disney movie transforms itself in splendid stage production that pleases both child and parent. This Broadway show won the esteemed Tony Award for the best musical of the year.

Macy's Thanksgiving Parade
Families line the streets as marching bands and gigantic floating cartoon-character balloons parade down the street.

FAO Schwarz toy store
Youngsters are in paradise in this large, celebrated toy emporium bursting with upscale toys and eye-popping displays.

American Museum of Natural History
This renowned museum has many exhibits and activities that excite children. This includes the family-oriented Discovery Room that spurs a child's imagination.

Bronx Zoo Dinosaur Safari
Your kids will see moving, roaring, lifesized prehistoric dinosaur replicas upclose. They seem almost realistic.
Runners-up

Brooklyn Children's Museum


Central Park carriage ride


Central Park Zoo


Children's Museum Manhattan


Dylan's Candy Bar


Statue of Liberty


Empire State Building observatory


Intrepid Sea, Air and Space Museum


New York Hall of Science


Roosevelt Island Tramway


Times Square at night


Top of the Rock observatory


Toys "R" Us Fifth Avenue


World of Disney Store

Learn more
Click blue links
to see my other
New York rankings
Restaurants
Sightseeing
Children attractions
Famous stores
Famous shopping areas
Museums
Annual events
Famous quotes
Top 5 Summary
Couresty of Walt Disney Company
Learn more
Click blue links
to read my other
"Top 5 rankings"
New York pages
Restaurants
Sightseeing
Children attractions
Famous stores
Famous shopping areas
Museums
Annual events
Famous quotes
Top 5 Summary

World Wonders - Top 100 rankings
World Wonders - Top 1000 list
My credentials
About my website and criteria
Reader testimonials
Site map