Other major
cruise destinations
Cruise tips you can trust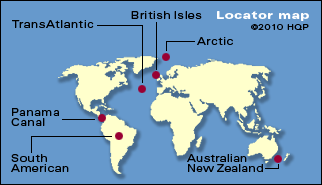 Click links in left column
for more cruise destinations

Arctic

The top 3 Arctic cruise destinations? The most popular dos and sees? Best two months to go? Why Iceland is special? Why the Svalbard Islands are special? The best fjord in Greenland? Why cruise ship size matters?


Australia / New Zealand

The best ports to visit in Australia and New Zealand? The basic two types of cruise itineraries? When to go? Best shore Australian excursion destinations? Best attractions in New Zealand?

Australia / New Zealand cruise

British Isles

What defines a British Isle cruise? The best 3 destinations on the cruise? The runners-up? Which cruise month would be best for you? The typical cruise length? The latest trends in passenger demographics?


Panama Canal

When to go on a Panama Canal cruise? When not to go? The best kind of Panama Canal cruises Best onboard viewing vantages? What to avoid when selecting a cruise?


South American

The top 2 South American cruise ports of call? The best 7 experiences beyond the major ports? Which are the most overrated destinations? When to go on the cruise?


TransAtlantic

How repositioning cruises work? How they differ from scheduled TransAtlantic cruises? How to minimize encountering rough seas? Which sailing direction is best - west or east?


World

How to determine whether a world cruise is right for you? Which lines are in the luxury, upmarket, and mainstream categories? The time of the year when most ships begin their journeys?

Learn these
cruise tips
Best cruise lines by category
29 cruise lines - descriptions
Top 10 destinations
Cabin selection
Cruise costs
Booking advice
Shore excursions
Cruise pros & cons
Cruise dining insights
Family cruising
Cruise etiquette
Ship communications
Cruise industry - facts
More cruise tips/insights
Cruise Lines International Association

World's Top 100 Wonders
World's Top 1000 Wonders
Site map
My credentials
About my website and criteria
Reader testimonials