10 most famous
English foods
#8 to #10
Food tips you can trust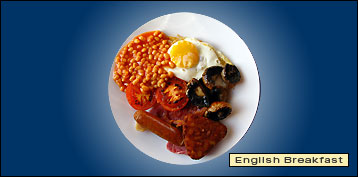 10 most famous
English foods

#8 to 10

Bubble & Squeak
Crispy, pan-fried savory cake made with leftover potatoes and cabbage.

Toad in the Hole
Baked batter-coated sausage.

Bangers & Mash
Sausage (banger) and mashed potatoes with gravy.

for #1 to 7
Famous
English meals

Full English Breakfast
A substantial morning meal of eggs, bacon, sausages, smoked fish, black pudding, and other offerings.

Ploughman's Lunch
A large piece of cheese with bread and pickles served in pubs. Ale is the favorite accompaniment.

Pub Grub
Defines snacks and quick-serve dishes sold in pubs. More often than not,they are of dubious quality.

Sunday Roast
The family and relatives gather around the table on Sunday afternoons for a traditional meal of roast beef, Yorkshire pudding, vegetables, and gravy.
Also learn these English
food tips and insights
Ten most famous English foods - # 1 to 7
English cuisine - Bad reputation?
English cuisine - More insights

Rankings
Peasant recipes
World wonders
Also read
Site map
About me and my credentials
About my website
Reader testimonials
Email me your opinion