Famous Latium
and Rome dishes
page 2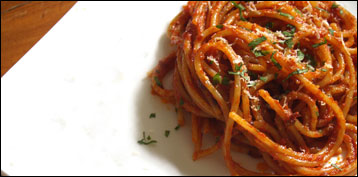 More famous
Latium and Rome
specialties
List continued from page one

Pinzimonio
A simple but popular appetizer consisting of a celery stick dipped in olive oil and sprinkled with salt and pepper.

Porchetta alla Romana
Suckling pig pieces sauteed in olive oil and seasoned with white wine, garlic and herbs. (Romans and their surrounding neighbors also love spit roasting the baby pig whole.)

Saltimbocca
Literally, Jumps into the Mouth. Consists of thin Prosciutto and veal slices (the first laid upon the second) sauteed in butter and accented with sage and white wine.

Spaghetti alla Carbonara
One standard recipe calls for the pasta being tossed simply with a sauce comprising pancetta (a salted but unsmoked form of bacon) and raw egg yolks. Other equally popular versions add ingredients such as cream, butter and cheese.

Spaghetti all' Amatriciana
Pasta topped with a sauce incorporating bacon, pepper, onions, and sometimes tomatoes, among other ingredients.

Spaghetti all' Arrabbiata
THe name "arrabiata" means "angry', Translates "angry spaghetti", refering to its spicy note.

Stracciatella
Rome's egg-drop soup, consisting of a beaten egg stirred into a rich, hot chicken or beef broth and sprinkled with grated cheese. Sometimes it is thickened with semolina.
List continues on next page
Learn More

for next Latium/Rome cuisine page
Also learn about these
Italian culinary regions
and their famous dishes
Italian culinary regions
Campania and its Naples
Emilia Romagna and its Bologna
Latium and its Rome
Liguria and its Genoa
Lombard and its Milan
Piedmont and its Torino
Sardinia
Sicily
Tuscany and its Florence
Veneto and its Venice
Plus some other regions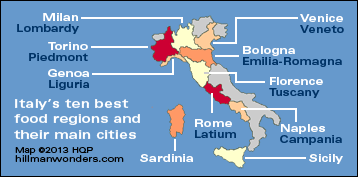 Also read
Italian cuisine - Home page
Top 10 Italy travel wonders
Photo by Giovanni JL - CC BY-SA 2.0
Italian Government Tourist Board

Rankings
Peasant recipes
World wonders
Also read
Site map
About me and my credentials
About my website
Reader testimonials
Email me your opinion