Dubai InterContinental
the city's best business hotel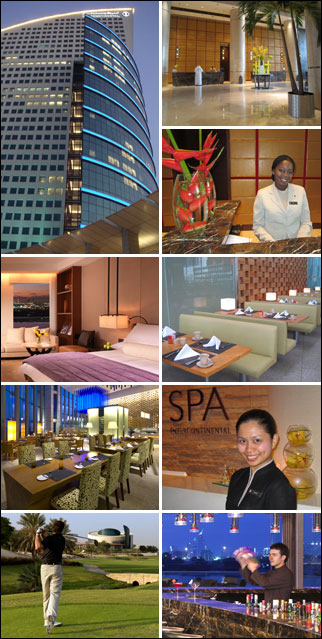 What guests like about
the InterContinental hotel
in Dubai's Festival City
I informally surveyed business travelers staying at the Dubai InterContinental hotel to learn why they chose it. These reasons stand out:

Geographic convenience
It's near the airport and less than 15 minutes from Dubai's main business/financial center.

Business facilities and services
The Dubai InterContinental has a well-equipped business center with a helpful staff. The hotel has a large event center for meetings and conferences.

Leisure hours
There is a variety of dining and cocktail venues as well as a private Club Lounge with superb views. Guests (and accompanying spouses) can unwind at the spa, fitness center, and outdoor pool.
For those who like to shop, the hotel is next door to the upscale 500-store Festival City Mall
Nearby is Dubai's renowned Dubai Creek Golf Course. Since the hotel runs this championship course, it's usually easy for guests to secure preferred tee times.

Rooms & Suites
They are roomy and spiffily furnished. Many have views of the Burj Khalifa, the world's tallest building. For long-term visitors, there is an InterContinental Residence Suites building next door.
Click Dubai InterContinental Hotel to go directly to the hotel's website.
Know these Dubai tips and insights
Dubai pages
Top10 things to do in Dubai
Ten reasons to visit Dubai
Burj Khalifa
Burj Khalifa - interesting facts
Burj Al Arab
Best hotels & resorts
Interesting Dubai tidbits
Cruise guide
Persian Gulf cruise
Dubai Tourism official website

World's Top 100 Wonders
World's Top 1000 Wonders
Site map
My credentials
About my website and criteria
Reader testimonials