What a luxury
safari is like
tips you can trust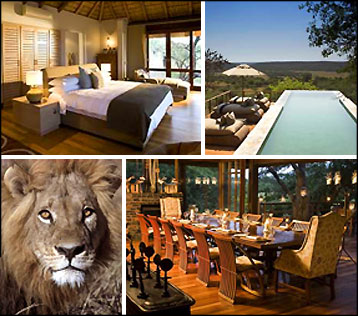 Top 5 reasons
luxury safaris
are special
They cost more than ordinary ones, but they are a better value. You get more for your money, as reasons 1 to 5 below demonstrate.
---
Better game-drives
Choice game areas
Some luxury safaris have exclusive traversing rights to the best locations. This means superior wildlife sightings.
Private game reserves
Luxury safari outfits often have private reserves, which allow them to go off road where much of the exciting action takes place. Nearly all ordinary safari operators do not have private reserves, which means they cannot leave the paved and gravel roads.
Rangers and trackers
They are more carefully selected, better trained, and more eager to find the animals for you.
Uncrowded
You seldom see a bevy of vehicles surrounding a lion like a swarm of paparazzi. And seating is usually two, not three abreast.
---
Better service
Personalized
The staff-to-guest ratio is high, employees are more professional and hospitable. They pamper you. They remember your name, how you like your martini, and more.
---
Better accommodations
Comfortable and stylish
Your cottage, tent, whatever will be a haven for relaxing and refreshing after game drives.
---
Better public spaces
Everything - from the main lodge building to the pool - is a soothing environment for taking it easy.
---
Better dining
Food quality and presentation
It's several notches higher than found in mid-range lodges. And you have a wider menu selection.
---
Learn more why it's special

---

NGALA
PHINDA
MORE POINTERS
Why a luxury safari is special
MORE SAFARI TIPS


World's Top 100 Wonders


World's Top 1000 Wonders


Site map
---

---

---