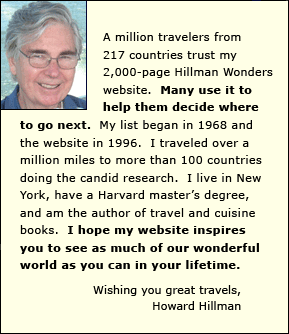 Tips on Mediterranean cruises
Best cruise lines
Best time to go
Best itineraries
Top 10 Mediterranean Ports of Call
1 Civitavecchia



2 Piraeus



3 Venice


4 Livorno



5 Istanbul


6 Dubrovnik


7 Naples



8 Marseille


9 Nice


10 Malaga

Know the best
shore excursions in...

29 Western Mediterranean ports


23 Eastern Mediterranean ports


13 ports near the Mediterranean

What it's like on a
Mediterranean cruise ship
Azamara Quest ship
Staff
Dining
Lounges & bars
Pool, spa & fitness
More activities
Cabin photo gallery
Cabin facts
Deck plans
More tips & insights
Ship fact sheet
World wonder rankings
More
Site map
About me and my credentials
About my website
Reader testimonials
Email me your opinion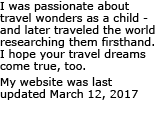 Best
Western Mediterranean
shore excursions
Italy
Cruise tips you can trust
Key


Italy
shore excursions
for popular port cities

Agrigento



Agrigento ruins.

Alghero



Neptune's Grotto.

Amalfi - Capri - Naples -
Positano - Sorrento





Pompeii. Herculaneum. Amalfi Coast. Capri. Mt Vesuvius Summit.

Catania - Messina - Taormina





Taormina. Mt Etna. Siracusa.

Civitavecchia



Rome. 0stia Antiqua. Villa d'Este.

Genoa - La Spezia - Portofino



Florence. Pisa. Siena. San Gimignano. Lucca.

Livorno



Florence. Pisa. Siena. San Gimignano. Lucca.

Olbia



Sardinia's Costa Smeralda.
Venice and Trieste are in the Eastern (not Western) Mediterranean. For their shore excursions, click Adriatic Italy.
France + Monaco + Malta
Spain + Gibraltar + Tunisia




Civitavecchia
Piraeus
Venice
Livorno
Istanbul
Dubrovnik
Naples
Marseille
Nice
Malaga


Western ports
Eastern ports
Ports near Mediterranean


Best cruise lines
Best time to go
Best itineraries

World Wonders - Top 100 rankings
World Wonders - Top 1000 list
My credentials
About my website and criteria
Reader testimonials
Site map


Safari guides
Special topics
World wonder rankings
Other tips & advice
More
Copyright 2013 HQP - Hillman Quality Publications / hillmanwonders.com