Best Rome
hotel area
Travel tips you can trust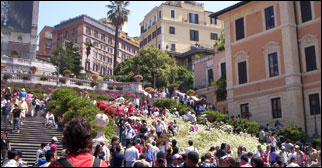 The Spanish Steps
is Rome's best hotel area
All Rome lodging locales have something to offer. But, overall, the best hotel area is the Spanish Steps. Advantages include:

Hotel variety
The Spanish Steps area has a wide choice of accommodations, from basic to ultra luxury hotels.
The latter category has two five-star deluxe landmark hotels featuring sumptuous Old World-style common areas:

Hotel Hassler
Rome's most famous luxury hotel.
Extravagantly pricey for nearly all travelers.

InterContinental Hotel
Next door to the Hassler, but more affordable.

to view my description and photos.
Both of these Rome establishments sit above the renowned Spanish Steps.

Location
By staying in the Spanish Steps locality, you will be within walking distance of many of Rome's famed attractions. These include the Trevi Fountain, Borghese Gallery, and - of course - the Spanish Steps. And, if you enjoy leisurely 30-minute walks, add the Vatican to the list.

Dining choices
The neighborhood boasts a variety of interesting restaurants.

Outstanding stores
Rome's most prestigious shopping street - the Via Condotti - begins at the Spanish Steps' Piazza Spagna.

Nightime safety
The Spanish Steps locale is one of Rome's safest evening locales.
Best hotel area
runnder-up

Piazza Navona
This celebrated piazza has has charming narrow streets with old-neighborhood character - and an active dining scene.
Be aware of
shortcomings of
these lodging areas

Vatican and Colosseum locales
Although these two areas put you conveniently close to their respective esteemed attractions, you won't be near many of the other Rome must sees. And, their dining and nightlife scenes will be limited.

Stazioni Termini
The main train station zone is popular because it's geographically convenient to public transportation. However, some parts can be noisy, run down, and possibly unsafe at night.
My Rome pages
Top 10 Rome attractions
Intesting Rome facts
Best Rome hotel area
Hotel description
Best time to visit Rome
Read my other Italy pages
Wonders of Italy - Complete list
Italy wonder map
Basic Italian phrases
Italian cuisine
Best time to visit Rome
More pages
World Wonders - Top 100 rankings
World Wonders - Top 1000 list
My credentials
About my website and criteria
Reader testimonials
Site map
Photo by Gatto Nero - CC BY-SA 3.0

World's Top 100 Wonders
World's Top 1000 Wonders
Site map
My credentials
About my website and criteria
Reader testimonials