How adventure and
standard cruises differ
cruise tips you can trust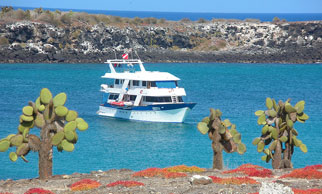 Key differences

Ship size
Their small sizes allow them to navigate into petite bays, narrow channels, and shallow depths.

Ports
They can stop at interesting ports that are too small or lack sufficient tourism infrastructure for big-ship visits.

Passenger count
It ranges from about a dozen (see boat photo above) to several hundred. The typical standard cruise ship carries a thousand or more passengers.

Passenger profile
Overall, the voyagers are more educated, well-off, and well-traveled.

Cost
They are more expensive because of factors like lack of economy of scale.

Educational
The focus is on learning and experience, not onboard entertainment and touristy ports. Expert lecturers give educational onboard lectures relevant to the boat's current location - and provide guidance on shore excursions. The ports are typically too small and lack sufficient tourism infrastructure for big-ship visits.

Land excursions
They are more educational and physically challenging. The typical boat-to-shore conveyance is not a tender but rather the Zodiac (a motorized inflatable rubber watercraft with a shallow draft). Read the informative 3-page Zodiac section in my Antarctica Cruise guide.

Itinerary flexibility
Many captains are authorized to change the itinerary (including port stops) on short notice to take advantage of an unexpected wildlife-spotting or other sightseeing opportunity.
Learn More

for Top 5 adventure cruise ratings
Cruise Lines International Association

World's Top 100 Wonders
World's Top 1000 Wonders
Site map
My credentials
About my website and criteria
Reader testimonials