Around the world
cruise
Cruise tips you can trust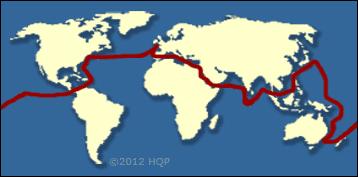 Is a world cruise
right for you?
A world cruise is ideal for 60-plus travelers who are affluent and time rich - and who seek a slow paced experience with lots of sea days.
However, a world cruise would not be your oyster if:

You would be bored spending months on the same boat and with more or less the same passengers.

You can only afford a small inside cabin and you would be very uncomfortable living out of a small, windowless space for several months.

You prefer to cruise with a mainly under-60 crowd.

You plan to bring children (they would likely be bored).

You have health issues that conflict with going on a multi-month cruise. Sometimes you'll be far out to sea (several sailing days away from the nearest land hospital or emergency evacuation helicopter service).

You are not 100% sure you will be able to begin or complete the cruise. Unless you have the proper insurance, cancelling a world cruise booking can be expensive, even if you do it a couple of months prior to embarkation.
If none of the above six issues apply to you, there are numerous compelling reasons to take a world cruise. Go for it.
Learn More

World cruise tips - Page 2


World cruise tips - Page 3
Learn these
cruise tips
Best cruise lines by category
29 cruise lines - descriptions
Top 10 destinations
Cabin selection
Cruise costs
Booking advice
Shore excursions
Cruise pros & cons
Cruise dining insights
Family cruising
Cruise etiquette
Ship communications
Cruise industry - facts
More cruise tips/insights
Cruise Lines International Association

World's Top 100 Wonders
World's Top 1000 Wonders
Site map
My credentials
About my website and criteria
Reader testimonials