Famous Canadian
foods A to M
Food tips you can trust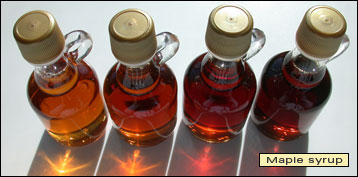 Famous specialties
that help define
Canadian cuisine
A to M
Note: Many of the specialties listed below are now popular throughout Canada. I give their geographical origin, when relevant.

Butter Tarts
Small cup-shaped pastry shells with various fillings.

Canadian Bacon
It's from the pork loin, not pork belly, which is why it is also named back bacon.

Canadian Game
Includes beaver, caribou, deer, duck, elk, moose, partridge, and quail meat. Ranges from the familiar (venison steak) to unusual (beaver tail).

Fiddleheads
Eastern Canada
Edible fern sprout that looks like a coiled musical fiddle head when it emerges from the ground in early spring.

Fish and Brewis
Maritime Provinces
Salt cod and hardtack cracker. Each is boiled separately, then served together.

Jigg's Dinner
Maritime Provinces
A mixture of corned beef, potatoes and other vegetables is accompanied by peas pudding mashed peas.

Lumberjack Breakfast
Huge serving of eggs, bacon, ham, sausages and pancakes.

Maple Syrup
Eastern Canada
Used as a pancake syrup or cooking flavoring agent.

Montreal Bagel
Quebec Province
A slightly sweet, junior-sized New York style bagel.
Also learn these Canadian
food tips and insights ...
Famous Canadian foods - N to Z
Canadian cuisine - How it came to be
Photo by Dvortygirl - CC BY-SA 3.0
Canada Travel
Canadian Tourism Commission

Rankings
Peasant recipes
World wonders
Also read
Site map
About me and my credentials
About my website
Reader testimonials
Email me your opinion