Famous Czech Foods
Food tips you can trust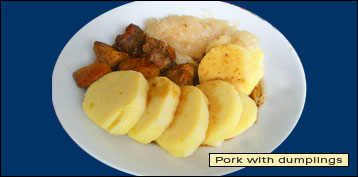 Czech cuisine
famous foods

Roast Pork with
bread dumplings
and sauerkraut
It's the national dish of the Czech Republic. See my authentic bread dumpling background recipe below.

Bread dumplings
Houskové knedlíky (the Czech name) is used to soak up the meat juices on the plate. Potato dumplings are also popular, but bread dumplings are closer to the Czech's heart.


Baked sliced sirloin (svickova)
Served with cream sauce and dumplings.

Goulash (gulaš)
Similar to the famous Hungarian variety, but more oniony and less spicy.

Roasted goose (husa)
Roasted duck (kachna) is also popular.

Breaded veal cutlet (řízek)
Similar to Germany's wiener schnitzel.

Smoked pork pancake
(bramborak or,
somplaces, cmunda)
Oversized potato pancake layered with smoked pork mixture.
Also learn these Czech
food tips and insights
Famous Czech foods and beverages - Page two
More Czech cuisine insights
Photo by Zacatecnik - CC BY-SA 3.0

Rankings
Peasant recipes
World wonders
Also read
Site map
About me and my credentials
About my website
Reader testimonials
Email me your opinion