Indonesian cuisine
famous specialties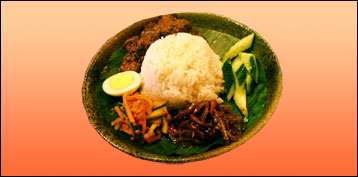 Click blue links
for my other
Indonesian pages
Balinese cooking
Balinese cooking - More insights
Why
Indonesian cuisine
is special
The food is chili hot and complexly seasoned with aromatic herbs and spices. "Bland" is not in an Indonesian chef's vocabulary. Freshness and taste are.
Famous Indonesian
traditional specialties
These four Indonesian cuisine dishes are widely popular, including in Bali.

Satay
Meat or prawns charcoal-grilled on mini-skewers.

Nasi Goreng
A fried rice mixture with finely chopped vegetables and either meat or prawns.

Mei Goreng
Same as Nasi Goreng except noodles are substituted for riceSame as Nasi Goreng except noodles are substituted for rice.

Gado Gado
Parboiled fresh vegetables flavored with a spicy peanut sauce.
Balinese cuisine

Indonesia's finest regional cuisine
Balinese cooks prepare many dishes that are broadly categorized "Indonesian" because they were created and are prepared elsewhere in the country. This includes the foods listed above.
However, the true local Balinese fare is more sophisticated Indonesian cooking in general.
Bali (as in virtually all of Indonesia) has a wide variety of delicious tropical fruits, eaten raw or used as a cooking ingredient.
Also learn these Indonesia
food tips and insights ...
Balinese cooking
Famous Balinese beverages

Rankings
Peasant recipes
World wonders
Also read
Site map
About me and my credentials
About my website
Reader testimonials
Email me your opinion