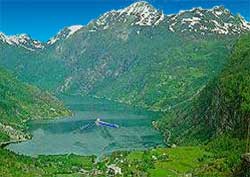 Helpful
Fjords of Norway
tips & insights

Cruise ship
vs road sightseeing
Although you can see the Fjords by train, bus or car, you will see far more on a cruise ship.

Fjord cruising vs
ocean cruising
One big difference between ocean and fjord cruising is you are almost always close to landscapes.

Cruisers vs hikers
While cruisers see the fjords at sea level, hikers get an eagle's eye view from the top of high cliffs. Some cruises give you enough shore time for hitting the trails.

Flam Railway
This mountain train offers one of the most scenic train rides on earth and attracts many tourists. It connects Myrdal in the mountains with sea-level Flam on the Sognefjord. The Flam Railway route is short (20 kilometers or 12 miles) and has a relatively steep grade (the elevation difference between Flam and Myrdal is 866 meters or 2841 feet).

Origin
Fjords were carved out of the mountains by ancient glaciers. Ocean water filled the space when the glaciers retreated, land sank, and sea levels rose.

Gulf Stream
This current from the Caribbean makes the temperatures along the Norwegian coastline higher than they would normally be this far north.

Expensive country
Norway is one of the most expensive places to visit in the world. Even a glass of beer has cost shock.<
Learn More

for my Fjords of Norway page 3

World's Top 100 Wonders
World's Top 1000 Wonders
Site map
My credentials
About my website and criteria
Reader testimonials