Maulbronn
Travel tips you can trust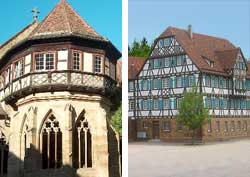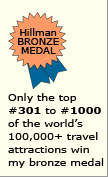 Why
Maulbronn
in Germany is special
It is an exceptionally well-preserved medieval monastery and an architectural treasure.
Maulbronn
tips and insights

Building
Two building complexes lie within the Maulbronn Monastery fortified walls:

The monastery itself
It is clearly the star. Highlights include the church and its porch, the vaulted cloisters and refectory, and the fountain house (see left side of photo). The architectural style is transitional. Romanesque gradually gave way to the lighter and airier Gothic design.

The half-timbered buildings
They are a set of photogenic half-timbered buildings (see right side of photo). They are used partially to service visitors with dining and shopping facilities. These structures are not as old as they look (though some of their foundations date back centuries).

Winemaking
This was a major source of income for the monks. Their vineyards blanketed nearby slopes.

History in brief
The Roman Catholic Cistercian order founded Maulbronn Monastery in the 12th century. The monks left for good during the 16th century Martin Luther inspired Reformation. A half century later, the site became a Protestant seminary, which still operates today.

Modest tourism
You are unlikely to find Maulbronn Monastery overrun with tourists because it is off the beaten tour-bus path. It is reached through country roads.

Location in Germany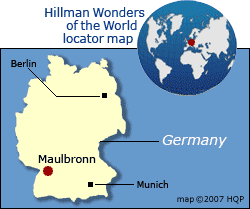 Know these
German tips and insights
Germany wonders - Top 10 rankings
Basic German phrases
Germany wonder map
German cuisine

World's Top 100 Wonders
World's Top 1000 Wonders
Site map
My credentials
About my website and criteria
Reader testimonials