Mosel Valley
Travel tips you can trust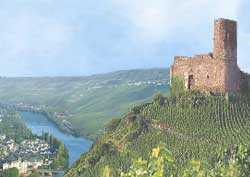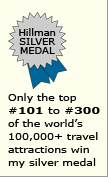 Why the
Mosel Valley
in Germany is special
The Mosel Valley is one of the world's most beautiful river valleys. It's blessed with medieval castles, charming villages with half-timbered houses, and steep-sloped vineyards.
Mosel Valley
tips and insights

Spellings
The French name for the river is spelled Moselle. The German portion is spelled Mosel.

German vs.
French sections
Although the French part of the river is pretty, the German portion is even prettier. This is especially true between the towns of Cochem and Berkkastel-Kues. In between are Zell and Beilstein, two bring-your-camera villages.

Eltz Castle
Although the Eltz Castle hides well into the forest and, thus, cannot see or be seen from the river, it has fairy-tale like quality, with numerous turrets and a soaring shape. Unlike nearly all major castles, Eltz Castle was never destroyed in battle, so it's not a massive reconstruction. It's the real thing.

Location in Germany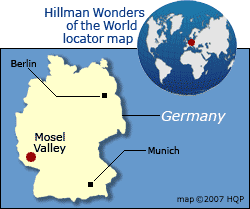 Learn More

for next Mosel Valley page
Know these
German tips and insights
Germany wonders - Top 10 rankings
Basic German phrases
Germany wonder map
German cuisine

World's Top 100 Wonders
World's Top 1000 Wonders
Site map
My credentials
About my website and criteria
Reader testimonials