Octoberfest
Travel tips you can trust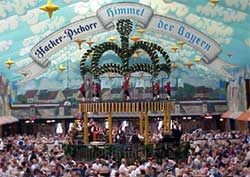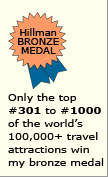 Why the
Oktoberfest
in Munich is special
The annual Oktoberfest in Munich, Germany has been called "the world's largest beer party". It attracts some seven million people (including loads of travelers) a year during a 16 day period from late September to early October.
Oktoberfest
tips and insights

Revelry is
the main attraction
People come to have fun with friends and family in the enormous beer tents.
The revelers sit tightly at long communal tables to drink liter-size mugs of strong Bavarian beer and eat copious quantities of grilled chicken and pork sausages while a lederhosen-attired Bavarian brass oompah-pah band entertains on a stage raised above the crowd (see photo).
Often, the rich and poor, the famous and obscure spontaneously lock arms and sway in comradeship while singing and toasting. It's a loud and noisy affair that's not to be missed.

Waitresses
The hefty, ethnic-clad waitresses have become an essential part of the scene, especially when they barrel down the aisles carrying up to ten large overfilled beer steins at a time. If you're in their path, it's wise to step aside.

Location in Germany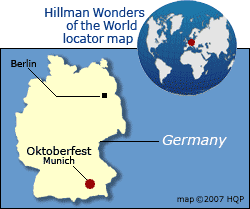 Learn More

for next Oktoberfest page
Know these
German tips and insights
Germany wonders - Top 10 rankings
Basic German phrases
Germany wonder map
German cuisine

World's Top 100 Wonders
World's Top 1000 Wonders
Site map
My credentials
About my website and criteria
Reader testimonials