Reichstag
Travel tips you can trust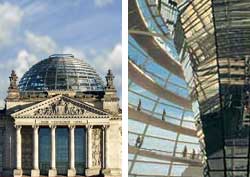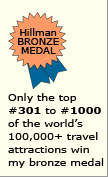 Why the
Reichstag
in Berlin is special
The relatively new glass dome of the German Parliament Building, the Reichstag, has a remarkable architectural design.
Reichstag
tips & insights

Dome
The 1999 Reichstag dome (see photo) was designed by Britain's internationally renowned architect Sir Norman Foster.

View government in action
The glass cupola sits directly over the German legislative chamber. Dome visitors can peer down into that room and, if the legislative body is in session, can see the members in action.

Funnel
A colossal inverted funnel with attached mirrors rises in the middle of the dome (see photo). Its purpose is threefold:

Ventilate the parliament chamber

Reflect light off the mirrors down into that assembly room

Impress the tourists

Location in Germany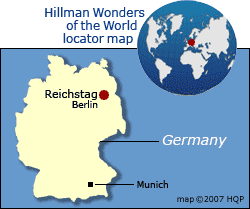 Learn More

for next Reichstag page
Know these
German tips and insights
Germany wonders - Top 10 rankings
Basic German phrases
Germany wonder map
German cuisine

World's Top 100 Wonders
World's Top 1000 Wonders
Site map
My credentials
About my website and criteria
Reader testimonials