Romantic Road
Travel tips you can trust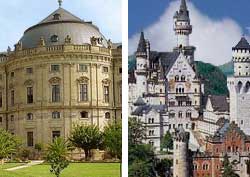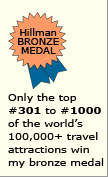 Why the
Romantic Road
in Germany is special
The Romantic Road takes you through a variety of walled medieval towns, eye-catching castles, and unspoiled countryside in Bavaria.
Romantic Road
tips and insights

Route
It travels from Wurzburg to Fussen (see small map below). The whole journey will put about 300 kilometers (200 miles) on your odometer.

Origin
The Romantic Road concept was created a little over a half century ago by a consortium of towns seeking to boost their tourism. Initially, some people thought the concept would never become popular. But it caught on. Today, it's a well-established travel institution.

Wurzburg
It is the traditional northern starting point. Its chief attractions are the Residenz palace (see left side of photo), the Marienberg Fortress, and the Old Town.

Rothenburg
The best and most famous in-between town is Rothenburg, which is a Hillman Wonders medal winner by itself.

Fussen
The Romantic Road ends in Fussen in the foothills of the Alps. The town is interesting and is near the famous Neuschwanstein Castle (see right side of photo).

Location in Germany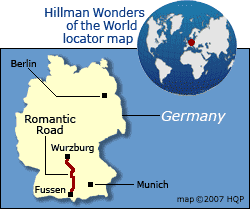 Know these
German tips and insights
Germany wonders - Top 10 rankings
Basic German phrases
Germany wonder map
German cuisine

World's Top 100 Wonders
World's Top 1000 Wonders
Site map
My credentials
About my website and criteria
Reader testimonials