Rothenburg Old Town
Travel tips you can trust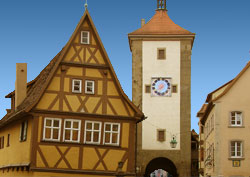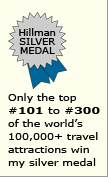 Why
Rothenburg Old Town
in Germany is special
Rothenburg has the best preserved and most photogenic old town in Germany. Its half-timbered buildings and narrow, winding cobblestone streets are so charming that some tourists have actually suspected that it was designed by the likes of Walt Disney.
Rothenburg Old Town
tips and insights

How to pronounce
Rothenburg: Roe'-ten-burg

Setting
The town is built on a geological spur rising high about the Tauber River below. This strategic location aided its defense during conflicts in the Middle Ages.

During World War II
Parts of Rothenburg were bombed. But fortunately, the lion's share of old town suffered minimal damage, thereby preserving the buildings for future generations.

Walls
Rothenburg is almost totally surrounded by fortified walls. You can climb and walk along them.

Location in Germany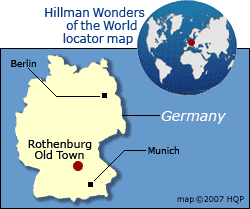 Learn More

for next Rothenburg page
Know these
German tips and insights
Germany wonders - Top 10 rankings
Basic German phrases
Germany wonder map
German cuisine

World's Top 100 Wonders
World's Top 1000 Wonders
Site map
My credentials
About my website and criteria
Reader testimonials