Meteora
Travel tips you can trust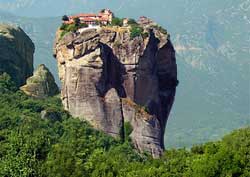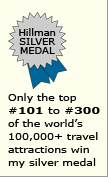 Why Meteora
in Greece is special
The isolated monasteries of Meteora in northern Greece are spectacularly perched on precipitous rock towers.
Meteora
tips and insights

The Meteora monasteries
In the 16th century there were about 20 monastery rock-tower sites. Today only a handful remain. One of them, Saint Stephan, is a nunnery. Holly Trinity (Agia Triada) is the most photogenic monastery. See photo.

Why they were built
The monks constructed their monasteries on the hard-to-access rock pillars of Meteora for a practical reason. They wanted to be beyond the reach of the Ottoman army that was invading Greece.

Going up
The rock columns soar from 75 to 300 meters (250 to 1000 feet) above the plain. Originally, humans were hoisted up in nets along with provisions. Or, they climbed a series of vertical ladders. Today, you sometimes need to climb steep cliff-hewn steps or cross a narrow bridge spanning a deep chasm.

Name
Meteora is ancient Greek for "suspended in midair".

Avoid the crowds
If possible, shun summer weekends. You will avoid the tour-bus crowds from Athens, Greece.

Location in Greece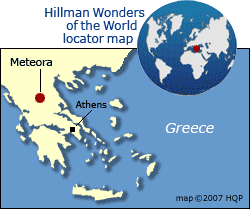 Know my other
Greece tips and insights
Greece wonders - Top 10 rankings
Greece wonder map
Basic Greek phrases for travelers
Greek cuisine

World's Top 100 Wonders
World's Top 1000 Wonders
Site map
My credentials
About my website and criteria
Reader testimonials