Mount Athos
Travel tips you can trust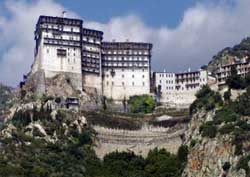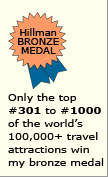 Why Mount Athos
in Greece is special
Twenty picturesque Eastern Orthodox monasteries are loosely spread out on a forested peninsula in northwest Greece. The most striking is the Simonopetra Monastery (see photo). It sits high on a rock overlooking the sea.
Mount Athos
tips and insights

Getting there
No roads in Greece enter Mount Athos. Boat is the only means of access.

Sexual discrimation
Woman are not allowed to set foot on Mount Athos soil. Even domesticated female
animals are excluded. So are children. Unfortunately, it's discriminatory, but
it has been that way with the monasteries on Mount Athos for nearly one thousand
years.

Permit required
Even if you are a man, it's not easy to obtain the requisite written permit to visit Mount Athos in Greece. Availability is limited. And you generally need to apply months in advance.
Your chances of getting a permit are improved if you are a member of the Eastern Orthodox faith. Only ten permits per day to this wonder of Greece are issued those not of that faith.

Cannot get a permit?
You can view the monasteries on a day-excursion tour boat that hugs the coastline, one the most scenic in Greece. Women and children are welcome.

Location in Greece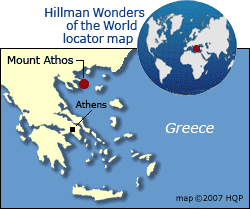 Learn More

for Mount Athos - Page 2
Know my other
Greece tips and insights
Greece wonders - Top 10 rankings
Greece wonder map
Basic Greek phrases for travelers
Greek cuisine

World's Top 100 Wonders
World's Top 1000 Wonders
Site map
My credentials
About my website and criteria
Reader testimonials