National
Archaeological Museum
Travel tips you can trust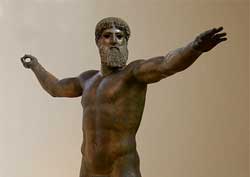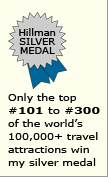 Why the National
Archaeological Museum
in Athens is special
It houses the world's finest collection of Greek antiquities, spanning prehistoric to Byzantine times. The National Archaeological Museum's primary strengths are sculpture and pottery.
National Archaeological Museum
tips and insights

Naming controversies
Two of the National Archaeological Museum's treasures are wrapped in naming controversy:

Statue of Poseidon (see photo)
Most scholars in Greece believe the right hand was holding a trident, therefore the subject is Poseidon. Other experts think the object was a lightning bolt, therefore he's Zeus. You decide.

Death Mask
of Agamemnon
Its 19th-century discoverer Heinrich Schliemann was certain that the subject of this Mycenaean masterpiece was the monarch Agamemnon. Today's archaeologists say that chronological dating proves that the subject lived in Mycenae on the Peloponnesus Peninsula of Greece before (and therefore could not possibly be) Agamemnon.

Location in Greece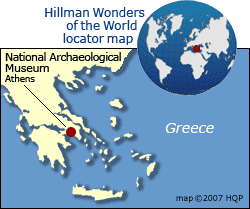 Learn More

for National Museum - Page 2
Know my other
Greece tips and insights
Greece wonders - Top 10 rankings
Greece wonder map
Basic Greek phrases for travelers
Greek cuisine

World's Top 100 Wonders
World's Top 1000 Wonders
Site map
My credentials
About my website and criteria
Reader testimonials