Temple of Poseidon
Travel tips you can trust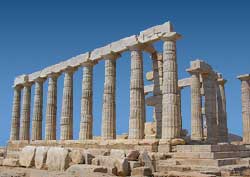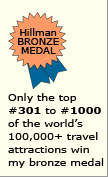 Why the
Temple of Poseidon
is special
The Temple of Poseidon sits majestically on Cape Sounion, 60 meters (200 feet) above the Aegean Sea. It offers a sweeping view of the sea and nearby Greek Islands.
Poseidon Temple
tips and insights

Origin
The Temple of Poseidon in Attica, Greece was built in 440 BC to honor Poseidon, the Greek god of the sea.

Grandeur
Although less than half of the original Doric columns are standing (see photo), they collectively attest to the grandeur of the Temple of Poseidon.

Lord Byron
Some visitors play the game of who can spot the notorious "Byron"-engraved marble first. Consensus says the poet Lord Byron chiseled the graffiti himself while visiting Greece around 1810. At the time, he was barely 21 and not yet famous.

Nearby temple
A major temple dedicated to Athena was built nearby, but didn't fare as well. Today only its foundation survives.

Getting there
The Temple of Poseidon is only 70 kilometers (45 miles) southeast of Athens, Greece. It's a half-daytrip, traffic permitting.

When to visit
To experience the Temple of Poseidon in its serene state, arrive early, before the tour buses from Athens, Greece do. Alternatively, go in the late afternoon - and, if the clouds cooperate, stay for Cape Sounion's celebrated sunset

Location in Greece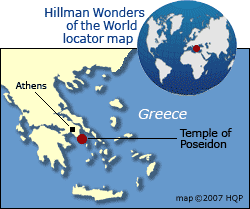 Know my other
Greece tips and insights
Greece wonders - Top 10 rankings
Greece wonder map
Basic Greek phrases for travelers
Greek cuisine

World's Top 100 Wonders
World's Top 1000 Wonders
Site map
My credentials
About my website and criteria
Reader testimonials