Chion-in Temple
Travel tips you can trust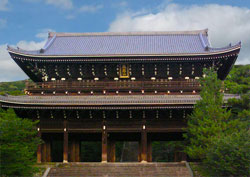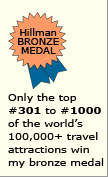 Why the
Chion-in Temple
in Kyoto is special
It is built on the site where the largest Japanese Buddhist sect was born - the Pure Land (Jodo Shu). Today, it's the world headquarters of that sect that has thousands of temples and millions of followers.
Chion-in Temple
tips and insights

Top 2 structures

Miedo (main hall)
It can accommodate over a thousand worshippers.

Sanmon (main gate)
It's immense in size yet graceful in appearance.

Famous bell
Chinon-in Temple has a colossal 17th-century temple bell. It's so massive that a large team of rope-pulling monks is needed to ring it. The bell weighs 72,000 kilograms (79 tons).

Statues
Don't miss seeing the splendid statue of Henon and the one of the Amida Buddha.

Site history
Within decades after founder Honan died here, the Chion-in Temple complex was built in his honor. Fires, earthquakes, and other calamities eventually destroyed the structures. They (including the Miedo and Sanmon) were rebuilt in the 17th century and remain today.

Location in Japan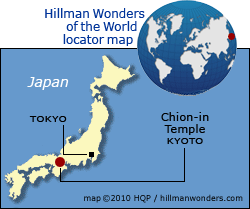 Know these
Japan tips and insights
Japan wonders - Top 10 rankings
Basic Japanese phrases
Japanese cuisine

World's Top 100 Wonders
World's Top 1000 Wonders
Site map
My credentials
About my website and criteria
Reader testimonials