Fushimi Inari
Travel tips you can trust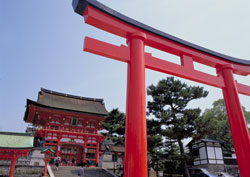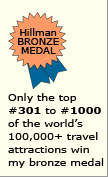 Why the
Fushimi Inari
is special
Its 10,000-plus torii gates make it one of the world's most visually striking religious sites.
Top 2
Fushimi Inari
attractions

Torii gates
Over 10,000 of these vermilion (reddish-orange) gates wind their way up the mountainside walking paths. They collectively measure 4 kilometers (2.5 miles) in length. They are so tightly packed that at times they become virtual corridors for visitors.

Main Hall
The Go-Honden building was constructed 500 years ago. It sits on a hillside just above the main gate (a colossal torii). See photo above.
Fushimi Inari
tips and insights

Best time
of the day
I recommend early in the morning and near dusk. The Fushimi Inari paths can be thickly populated with tourists and worshippers in the hours in between. Crowding is worst during the New Year's holiday.

Donations
Each torii was donated by a business or individual in the hope of gaining prosperity. Notations are inscribed on the back of a torii to help insure that deities and earthlings will always remember their generosity.

Location in Japan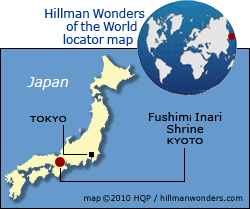 Learn More

for nest Fushimi Inari page
Know these
Japan tips and insights
Japan wonders - Top 10 rankings
Basic Japanese phrases
Japanese cuisine

World's Top 100 Wonders
World's Top 1000 Wonders
Site map
My credentials
About my website and criteria
Reader testimonials