Kamakura
Great Buddha
Travel tips you can trust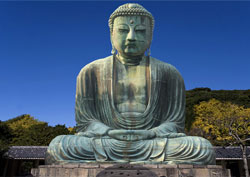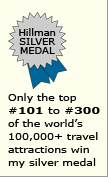 Why the
Kamakura Great Buddha
is special
The 13-meter (44-foot) statue has a serene yet commanding presence as it appears to gaze down on visitors.
Kamakura Great Buddha
tips and insights

Building material
It's made of bronze and weighs 84,000 kilograms (93 tons)

Hollow
The statue is hollow and you can visually explore that space by entering through a side entrance. Note: You could feel like you're in an oven on hot sunny days (the sun rays heat the metal exterior plates).

Kamakura Buddha's
history in brief

1252
It was cast in bronze and housed in a wooden temple hall.

1495
A monstrous tsunami wave washed away the temple hall, instantly transforming the wonder into an outdoor statue. It's in good shape considering that it has been exposed to the elements for over 500 years.

1961
It was structurally reinforced to help it survive earthquakes.

Formerly golden
Gold leaf once covered it. That thin veneer flaked away over the centuries. Only a small trace in one of the ears remains.

Name
In English, this monument is called "Kamakura Great Buddha", "Great Buddha of Kamakura", or simply, "Kamakura Buddha". In Japanese, it's "Daibutsu".

Photo taking
During the peak summer season, organized tour groups spoil your photos by thickly mingling in front of the monument. For an uncluttered photo, arrive early or late in the day.

Easy daytrip from Tokyo
A train whisks you to Kamakura in one hour. The statue is only a 10-minute walk from the station.

Location in Japan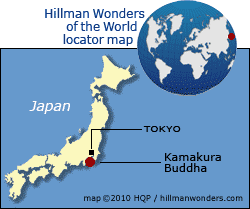 Know these
Japan tips and insights
Japan wonders - Top 10 rankings
Basic Japanese phrases
Japanese cuisine

World's Top 100 Wonders
World's Top 1000 Wonders
Site map
My credentials
About my website and criteria
Reader testimonials