Kiyomizu Temple
Travel tips you can trust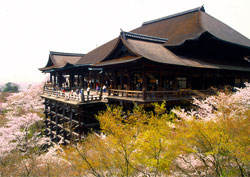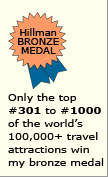 Why the
Kiyomizu Temple
is special
This Kyoto wonder is one of the world's most celebrated Buddhist sites.
Top 3
Kiyomizu Temple
attractions
There are over a dozen interesting ones. These are the three leading must-sees:

Main Hall (see photo)
This hillside building has a famous 400-year-old veranda offering a fine view of Kyoto and forested hills. It juts over a cliff and is supported by 139 wood pillars of up to 15 meters (49 feet) in length.

Otawa Falls
It's really three short streamlets. Tradition says each has a special power to give you a benefit (health, longevity, wisdom) if you sip the water. You can drink two but it's bad luck to imbibe all three because that's considered greed. Bad luck follows.

Jishu Shrine
It's dedicated to the Buddhist god of love and matchmaking. Tradition tells us if you can walk the distance between the site's two large stones with your eyes closed, you will find your true love soon.
Kiyomizu Temple
tips and insights

Dates
The original temple complex dates from 798 and the current version was launched in 1633.

Name
Kiyomizu means "pure water" in Japanese, a reference to the water of Otawa Falls.

Prettiest times to come
The scene is superbly photogenic during the spring cherry-blossom and fall foliage periods. Though crowds are thick.

Location in Japan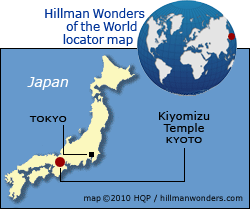 Know these
Japan tips and insights
Japan wonders - Top 10 rankings
Basic Japanese phrases
Japanese cuisine

World's Top 100 Wonders
World's Top 1000 Wonders
Site map
My credentials
About my website and criteria
Reader testimonials