Osaka Castle
Travel tips you can trust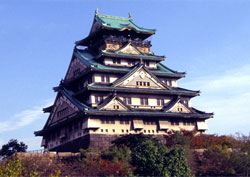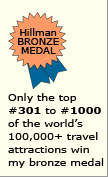 Why
Osaka Castle
is special
This imposing stronghold in Osaka was once Japan's mightiest and grandest castle.
Osaka Castle
tips and insights

Today's keep (main tower)

It's the icon of Osaka city. Because the surrounding land is flat, the central tower (keep) can be seen from afar.

At night, it's illuminated, creating a magnificent scene for local residents.

The top floor rises 30 meters (100 feet). It offers a panoramic view of Osaka city and beyond.

Other floors feature an exhibition-style museum.

Moats and walls
The moat is wide and flanked with massive defensive walls made with mortar-less interlocking stones.

History in brief

1583
Built by powerful ruler Hideyoshi Toyotomi

1615
Destroyed in battle with the conquering Shogun Iseyasu Tokugawa

1620
Rebuilt on even a grander scale by Tokugawa.

1665
Destroyed by lightning, then slowly deteriorates through neglect and fighting.

1931
Main tower reconstructed, but by using cement instead of original materials.

1997
1997 - Site undergoes major needed repair work.

Osaka Castle is not
Japan's best castle
The somewhat similar looking Himeji Castle near Nara wins the "best" honor. It's a reconditioned original while the Osaka tower is mainly a 20th-century cement replica.

Location in Japan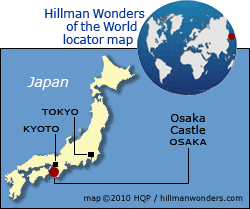 Know these
Japan tips and insights
Japan wonders - Top 10 rankings
Basic Japanese phrases
Japanese cuisine

World's Top 100 Wonders
World's Top 1000 Wonders
Site map
My credentials
About my website and criteria
Reader testimonials