Ryoan-ji
Rock Garden
Travel tips you can trust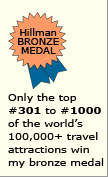 Why the
Ryoan-ji Rock Garden
is special
Kyoto's 500-year-old garden consists simply of 15 rocks set on a bed of gravel. The scene inspires peaceful Zen contemplation.
Ryoan-ji Rock Garden
tips & insights

Rocks
The 15 rocks have irregular shapes and sizes - and are positioned into 5 small groups, some surrounded by moss.
The rocks are laid out in a way that you can see only 14 of them from any ground-level vantage point. When you attain Zen spiritual enlightenment, you'll see all 15 simultaneously.

Gravel
The white-pebbled gravel is meticulously raked daily to form harmonious straight and curved lines.

Dimensions
The bed of gravel measures 30 by 10 meters (99 by 33 feet).

Up close viewing
You sit on the edge of a wood-floor veranda that closely abuts the rock garden.

When not to come
The least desirable time is from mid-morning to mid-afternoon when tour-bus groups pack the veranda, destroying the serene ambiance you've come to experience. I also recommend avoiding weekends (especially in the summer) and holidays. Also, try to arrive soon after the Ryoan-ji Rock Garden opens in the morning or just before it closes in the late afternoon.

Temple
The rock garden is part of the Zen faith Ryoan-ji Temple. The complex includes a worth-exploring tatami-floored meditation hall and a large, attractive pond.

Location in Japan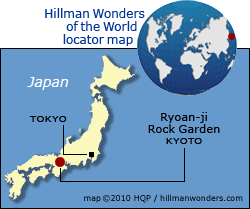 Know these
Japan tips and insights
Japan wonders - Top 10 rankings
Basic Japanese phrases
Japanese cuisine
photo copyrighted JNTO

World's Top 100 Wonders
World's Top 1000 Wonders
Site map
My credentials
About my website and criteria
Reader testimonials