Dreams Huatulco
Resort & Spa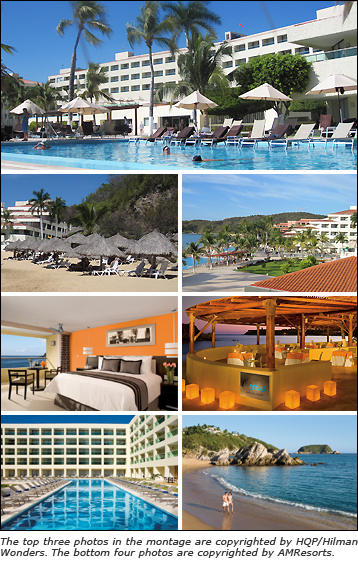 Top 5 reasons
guests like the quality
Dreams Huatulco Resort
in Mexico's Bays of Huatulco
I informally surveyed my fellow Dreams guests to learn why they enjoy the Huatulco Dreams Resort and Resort. Their top five reasons:

Impressive setting

Located on beautiful Tangolunda Bay.

Wide golden-sand beach bordered by picturesque rocky promontory.

Manicured landscaping with palm trees, green lawns and tropical plants.

Wide variety of
dining and activities

Five distinct no-reservations-needed, atmospheric-decorated dining rooms (Mexican, Italian, Asian, Seafood, and World Cafe).

Five bars and lounges.

Comfortable lounge chairs around pools and under palm-thatched umbrellas on beach.

Water sports (including snorkeling, jet-skiing, kayaking, sailing, and swimming in six large pools).

Children activities (including Explorer's Club).

Spacious spa.

Spiffy rooms and public spaces

They are large, modern, and comfortably furnished.

All rooms have balconies or patios. Most have full or partial ocean views.

The ground floor public spaces are attractive and airy.

All-inclusive
room rate includes

Meals (breakfast, lunch and dinner, and room service).

Drinks (including cocktails)

Entertainment (including singers and stage shows)

Gratuities.

Value
Room rates are a great value when you consider all of the above, plus the friendly, eager-to-please staff.
Whom Dreams
would not appeal to
Vacationers seeking a loud partying scene.
Visit Dreams' website to learn
more about this all-inclusive resort

to book directly with the
Dreams Huatulco Resort.

to view photos and videos
of the Dreams Huatulco Resort & Spa.
See my helpful tips on
the Bays of Huatulco


to learn when to go, day
tours to take, and more.

to read my
All-Inclusive Resort home page

World's Top 100 Wonders
World's Top 1000 Wonders
Site map
My credentials
About my website and criteria
Reader testimonials