Avignon
Historic Center
page 2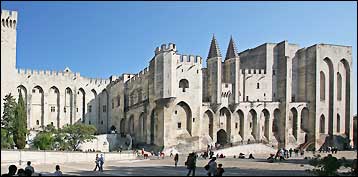 More Avignon
Historic Center
tips & insights

Famous
nearby bridge
Nearby is the famed medieval Avignon Bridge. It juts over the river, then abruptly ends midstream. Reason: Only 4 of its original 22 arches remain. This bridge is also well-known because it's the subject of the classic French children's song, "Sur le Pont d'Avignon".

Avignon
old city
It is still surrounded by substantial fortified medieval walls.

Major
cultural festival
An internationally renowned theatre, music and dance festival takes place in Avignon in July. Most of the highlights are staged inside the Papal Palace, though there is significant performance activity in other locations, including on the streets.
Learn More

for Avignon Historic Center - Page 1
Learn my other
France tips and insights
Wonders of France - Complete list
France wonder map
Best time to visit Paris
Basic French phrases
French cuisine
Photo by Jean-Marc Rosier - CC BY-SA 3.0

World's Top 100 Wonders
World's Top 1000 Wonders
Site map
My credentials
About my website and criteria
Reader testimonials