Jungfrau
Cog Railway
Travel tips you can trust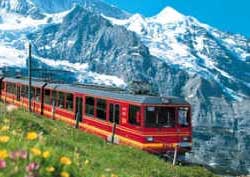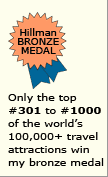 Why the
Jungfrau Cog Railway
is special
It takes you up to Jungfraujoch, a famous mountain saddle 3,741 meters (11,368 feet) above sea level. The Jungfrau Cog Railway views are breathtaking.
Jungfrau Cog Railway
tips and insights

Itinerary

Most visitors take the full-day excursion out of Interlaken.

Your initial prime destination is the Kleine Scheidegg station. There are two routes to it: via Lauterbrunnen Valley and Grindelwald Valley. Both are immensely scenic.

You switch trains at Kleine Scheidegg for the final leg up to Junfgraujoch. The trip takes 50 minutes (you'll be inside a steep-inclined tunnel carved out of solid mountain rock for about 80% of that time).

At Jungfraujoch
The highlight is the sweeping view of the jagged mountainscapes and distant lowlands from the Sphinx observation terrace.
Other tourist favorites include the Ice Palace (a manmade cavern hewn out of glacial ice and populated with ice sculptures) and the view of Aletsch Glacier (Europe's longest).
The many other possible trip experiences include skiing, snowboarding, tobogganing, dog sledding, and high-altitude dinng.

Advice

Don't book a nonrefundable ticket until you are virtually sure that the mountains will be cloud free during your visit. Otherwise, you would be spending good money (the excursion is expensive) and a full day just to see clouds in front of your nose.

Take the Lauterbrunnen Valley route up and the Grindelwald Valley route down (or the reverse) for sightseeing variety.

Board the day's first train to minimize the crowd factor.

Location in Switzerland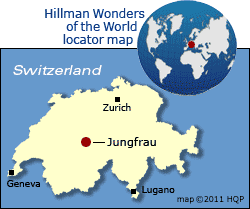 Know these Switzerland tips and insights
Swizerland medal winners
Bern Old City
Chillon Chateau
Fribourg Old Town
Gstaad
Jungfrau Cog Railway
Lucerne Covered Bridges
Matterhorn
Palace of Nations
Thun Castle
Zurich Old Town
Rankings
Top 5 Switzerland Wonders
Train image ©Switzerland Tourism

World's Top 100 Wonders
World's Top 1000 Wonders
Site map
My credentials
About my website and criteria
Reader testimonials