Thun Castle
Travel tips you can trust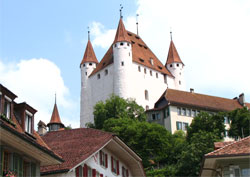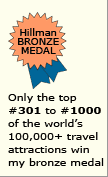 Why Thun Castle
is special
It is a picturesque, well-preserved medieval structure dating back to the 12th century. Thun Castle now houses an interesting museum.
Thun Castle
tips and insights

How to pronounce
Thun = toon.

Views
The four turrets collectively provide an impressive panoramic view of the town and Aare River below - and of Lake Thun and the snow-capped Alps in the distance.

Museum
Its five floors showcase a broad collection of regional items, including weaponry, tapestries, ceramics, and toys. The Knight's Hall is the highlight room and is the venue for summertime concerts.

Construction
history in brief
The Dukes of Zahringen built it in 1195. The soaring, eye-catching trapezoidal roof was added two centuries later.

Other Thun attractions
Don't miss the photogenic Town Hall Square and its restored centuries-old buildings. If you have time, also visit Schadau C astle, home of the Gastronomy Museum.

Getting there
It's less than a half hour by train from the city of Bern.

Location in Switzerland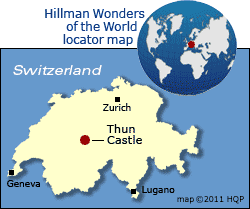 Know these Switzerland tips and insights
Swizerland medal winners
Bern Old City
Chillon Chateau
Fribourg Old Town
Gstaad
Jungfrau Cog Railway
Lucerne Covered Bridges
Matterhorn
Palace of Nations
Thun Castle
Zurich Old Town
Rankings
Top 5 Switzerland Wonders
Photo by Andrew Bossi - CC BY-SA 2.5

World's Top 100 Wonders
World's Top 1000 Wonders
Site map
My credentials
About my website and criteria
Reader testimonials