Mount Rushmore
Travel tips you can trust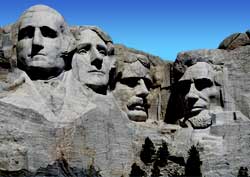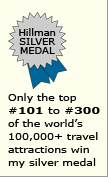 Why
Mount Rushmore
is special
The heads of four renowned American presidents are hewn out of the upper cliff of a granite mountain in the remote Black Hills of South Dakota.
Mount Rushmore
tips and insights

Who's who
The four leaders are (from left to right in the photo) George Washington, Thomas Jefferson, Theodore Roosevelt and Abraham Lincoln

Size
The faces are as high as a six story building. The composite Mount Rushmore entity is the largest completed carved artwork in area in the world.

Washington's proportions
If you would erect a statue of Washington proportional to his carved head, he would be about 140 meters (460 feet) tall.

Jefferson was sculpted twice
It was started on the left of Washington's. However, before it was completed, the engineers discovered that the rock was too weak. So, the workers destroyed the Jefferson visage and began it anew on the right side, where it is today.

Location in America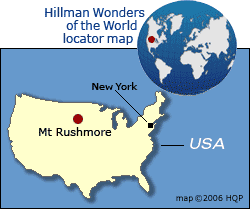 Learn More

for Mount Rushmore tips - Page 2
Learn my other
America tips & insights
America Wonders - Complete list
America wonder map
Top 10 Famous American foods


World's Top 100 Wonders
World's Top 1000 Wonders
Site map
My credentials
About my website and criteria
Reader testimonials