Top 10 famous
American dishes that
visitors should try
rankings you can trust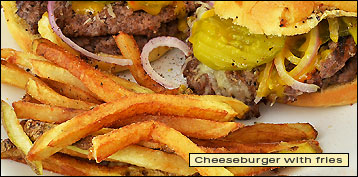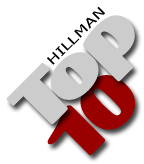 America's 10 most
famous dishes that
visitors should try
When I visit a foreign country, I try to dine in restaurants recommended by local gourmets.
I also make it a point to sample mainstream dishes that have become iconic to a nation. For instance, fish and chips in England.
Below are the 10 most famous iconic dishes of America.

Cheeseburger with fries
Popular burger toppings include bacon, onions, tomatoes, mushrooms, pickles, and lettuce.

Hotdog on bun with mustard
Widely sold by street vendors and in sports stadiums.

Pepperoni pizza
Other popular toppings include mushroom, sausages, and olives.

Southern fried chicken
A non-greasy crusty batter and a slightly moist interior are keys to success.

Barbecue ribs
They should be lightly charred on the outside, succulent inside.

Grilled T-bone steak
Order it medium rare for optimum tenderness. Well-done steaks can be on the tough side.

Macaroni and cheese
Children are usually the biggest fans of this simply prepared dish.

Chili con carne
This meat dish can be prepared without or without beans. Purists abhor adding beans.

Caesar Salad
Romaine lettuce, eggs, croutons, and grated parmesan cheese tossed in vinaigrette sauce.

Pastrami on rye
This deli-style sandwich was introduced to America by Jewish immigrants.
Learn my American tips
and insights on these pages
Click blue links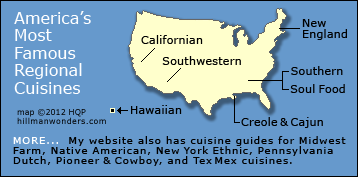 America's 7 most famous
regional cuisines
California
Creole & Cajun
Hawaiian
New England
Soul Food
Southern
Southwestern
Other renowned
American cuisines
Cowboy
New York Ethnic
Midwest farm
Native American
Penn Dutch / Amish
Pioneer
Tex Mex
Related pages
Top 10 Famous American foods
American cuisine - The bad and good
American city specialties
USA production science
Top 10 travel wonders of America

Rankings
Peasant recipes
World wonders
Also read
Site map
About me and my credentials
About my website
Reader testimonials
Email me your opinion