Famous specialties
in American cities
Food tips you can trust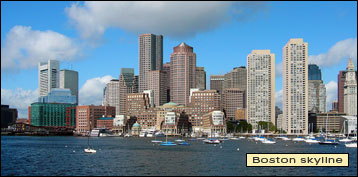 Baltimore

Crab Cakes
Seasoned and meaty. From Chesapeake Bay.
Boston
Click here for my New England page
Charleston

She-Crab Soup
Features meat and eggs of the female crab.
Chicago

Deep Dish Pizza
Thick-crusted pizza cooked in a rimmed pan.
Cincinnati

Cincinnati Chili
Mid-East-type spicy flavor. Served over pasta.
Dallas

Barbecue
Made the Texan way. Beef, not pork, is used.
Houston

Chili
Cubed, not ground beef. No beans.
Kansas City

Barbecue Pork Ribs
Succulent and well-sauced.
Los Angeles

Taco-tamale-enchilada Combo
The Cal Mex trinity.
Memphis

Barbecue
The meat is pork, not beef (as in Texas).
Miami

Ropa Vieja
Slow-roasted beef, prepared Cuban style.
Milwaukee

German Sausage
Served with sauerkraut and beer.
New Orleans
Click here for my Creole and Cajun page
New York City
Click here for my New York Ethnic section
Philadelphia

Philly Cheesesteak
Sliced beef with melted cheese sandwich.
San Francisco

Cioppino
Seafood stew with clams, crab, shrimp, etc.
Seattle

Salmon Steak
Grilled or broiled.
St. Louis

Toasted Ravioli
Breaded and deep fried.
Learn my American tips
and insights on these pages
Click blue links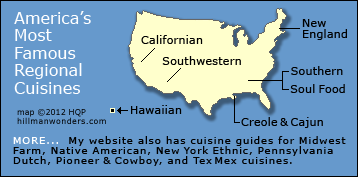 America's 7 most famous
regional cuisines
California
Creole & Cajun
Hawaiian
New England
Soul Food
Southern
Southwestern
Other renowned
American cuisines
Cowboy
New York Ethnic
Midwest farm
Native American
Penn Dutch / Amish
Pioneer
Tex Mex
Related pages
Top 10 Famous American foods
American cuisine - The bad and good
American city specialties
USA production science
Top 10 travel wonders of America

Rankings
Peasant recipes
World wonders
Also read
Site map
About me and my credentials
About my website
Reader testimonials
Email me your opinion