Tex Mex and
New York ethnic
cuisines
Food tips you can trust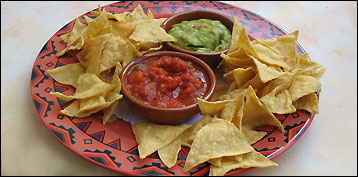 Tex Mex cuisine

Similar names
Many of its dishes share the names with those in the Southwestern cuisine galaxy.

Origin
The classic "Tex Mex" cuisine did not get its moniker until several decades ago. However, the food style existed before the Mexican land became part of the United States in 1845. It is simple, honest food, reflecting the cooking of early ranchers and farmers in the semi-arid lands.

Tex Mex restaurants
By the mid 1950s, many restaurants of limited culinary skills opened "Tex Mex" restaurants" in Texas and well beyond. Their product was so bad that the cuisine gained an unjustified negative image among food connoisseurs.
New York ethnic cuisine

Melting pot
The city is unquestionably the culinary melting pot of the world. It is the residence of many immigrant chefs and home cooks who remain proudly loyal to their homeland's culinary heritage.

29 world cuisines
You can explore a wide variety of entrenched cuisines in New York City:
Brazilian, Caribbean, Chinese, Czech, Ecuadorian, Egyptian, Ethiopian, Filipino, French, German, Greek, Hungarian, Indian, Indonesian, Irish, Italian, Japanese, Jewish, Korean, Lebanese, Moroccan, Peruvian, Polish, Portuguese, Russian, Scandinavian, Thai, Turkish, and Vietnamese. And more.
There are even restaurants that specialize in a regional cuisine of a particular country.
This global-scoped ethnicity has become the true New York cuisine.
Learn my American tips
and insights on these pages
Click blue links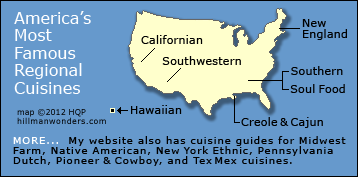 America's 7 most famous
regional cuisines
California
Creole & Cajun
Hawaiian
New England
Soul Food
Southern
Southwestern
Other renowned
American cuisines
Cowboy
New York Ethnic
Midwest farm
Native American
Penn Dutch / Amish
Pioneer
Tex Mex
Related pages
Top 10 Famous American foods
American cuisine - The bad and good
American city specialties
USA production science
Top 10 travel wonders of America

Rankings
Peasant recipes
World wonders
Also read
Site map
About me and my credentials
About my website
Reader testimonials
Email me your opinion