Southern cuisine
Food tips you can trust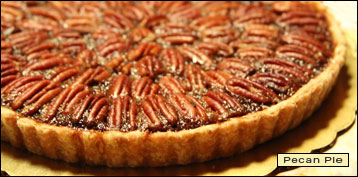 Why
Southern cuisine
is special
Southern cuisine is steep in tradition. Cooking, eating and gracious entertaining once played an intense part of the culture. In some restaurants and homes today, that lifestyle quality still thrives.
How many of these
Southern cuisine preparations
have you tasted?

Southern Fried Chicken

The quintessential Southern specialty. Chicken pieces are floured or battered, then fried or deep fried.

Pies and Cobblers

Southerners are gifted pie and cobbler bakers. Classic fillings include pecan, peach and sweet potato.

Biscuits

They are typically leavened with baking powder or, in the case of Beaten Biscuits, none at all (their lightness comes from repeated beating).

Country Ham

It is often fried and served with Red-Eye Gravy (named for the liquid disk that forms on the sauce). Virginia's Smithfield Ham, made from peanut-fed hogs, is the finest product.

Barbecued Ribs

Memphis, Tennessee is widely considered America's pork barbecue capital.
Learn More

for next Southern Cuisine page
Learn my American tips
and insights on these pages
Click blue links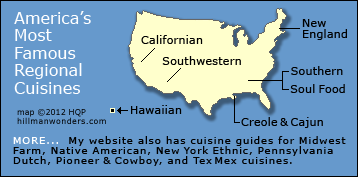 America's 7 most famous
regional cuisines
California
Creole & Cajun
Hawaiian
New England
Soul Food
Southern
Southwestern
Other renowned
American cuisines
Cowboy
New York Ethnic
Midwest farm
Native American
Penn Dutch / Amish
Pioneer
Tex Mex
Related pages
Top 10 Famous American foods
American cuisine - The bad and good
American city specialties
USA production science
Top 10 travel wonders of America
Photo by Joe Hakim - CC BY 2.0

Rankings
Peasant recipes
World wonders
Also read
Site map
About me and my credentials
About my website
Reader testimonials
Email me your opinion