Soul Food
Food tips you can trust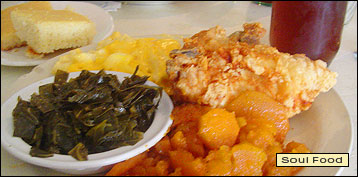 Why
Soul Food
is special
Soul Food cuisine was created by Black slave woman cooks in the Old South. Its culinary roots are West African. Like other ethnic comfort foods in our world, Soul Food cuisine is hearty and filling - and evokes a satisfying emotional response to one's cultural heritage.
How many of these
famous Soul Food specialties
have you tried?
They are not the exclusive domain of Soul Food, but that cuisine has the most bragging rights to them.

Black-Eyed Peas
This legume is enriched with salt pork. When rice is mixed in, it becomes Hoppin' John, a traditional good-luck dish served on New Year's Day..

Candied Sweet Potatoes
A widely loved side dish. Sweet potatoes are similar to the West African yam

Chitlins
Boiled or fried hog intestines, often served with hot sauce.

Collard Greens
No Soul Food meal is complete without a side of simmered collard greens (or their alternatives, mustard and turnip greens).

Hush Puppies
Deep-fried corn fritters. So-named because cooks tossed a few to the dogs to keep them quiet.

Smothered Chicken
The meat is sautéed then cooked slowly with onions until the pan liquid appreciably thickens. It is then poured over the chicken, smothering it.
Learn More

for next Soul Food page
Learn my American tips
and insights on these pages
Click blue links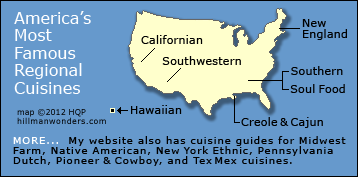 America's 7 most famous
regional cuisines
California
Creole & Cajun
Hawaiian
New England
Soul Food
Southern
Southwestern
Other renowned
American cuisines
Cowboy
New York Ethnic
Midwest farm
Native American
Penn Dutch / Amish
Pioneer
Tex Mex
Related pages
Top 10 Famous American foods
American cuisine - The bad and good
American city specialties
USA production science
Top 10 travel wonders of America
Photo by Clancy Ratliff - CC BY 2.0

Rankings
Peasant recipes
World wonders
Also read
Site map
About me and my credentials
About my website
Reader testimonials
Email me your opinion